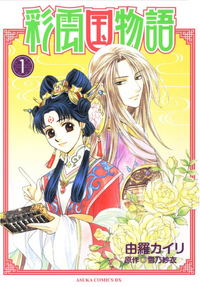 The Story of Saiunkoku (彩雲国物語, Saiunkoku Monogatari, lit. "Tale of the Land of Colored Clouds") is a manga series based on the light novels by Sai Yukino. The manga is written and illustrated by Kairi Yura, who is also the illustrator for the light novels.
A manga adaptation of The Story of Saiunkoku began serialization in Beans Ace in 2005 where it continued to run until 2009, when the magazine ended its publication. The series continued in Monthly Asuka[1] until 2012.
The individual chapters were published in tankōbon volumes by publisher Kadokawa Shoten, with the first released in June 2006. As of April 2012, nine volumes have been released. The series has been licensed by Viz Media for an English release beginning in November 2010[2] as part of their Shojo Beat imprint. English translations of volumes 1 - 9 of the comics are also available at Kadokawa's eBook store.[3]
| No | Japan Release Date | Japan ISBN | North America Release Date | North America ISBN |
| --- | --- | --- | --- | --- |
| 01 | June 26, 2006 | ISBN 4-04-853969-8 | November 2, 2010 | ISBN 978-1-4215-3834-1 |
| 02 | June 26, 2007 | ISBN 978-4-04-854104-6 | February 1, 2011 | ISBN 978-1-4215-3835-8 |
| 03 | May 26, 2008 | ISBN 978-4-04-854178-7 | May 3, 2011 | ISBN 978-1-4215-3836-5 |
| 04 | February 23, 2009 | ISBN 978-4-04-854299-9 | August 2, 2011 | ISBN 978-1-4215-3837-2 |
| 05 | January 26, 2010 | ISBN 978-4-04-854418-4 | November 1, 2011 | ISBN 978-1-4215-3842-6 |
| 06 | October 26, 2010 | ISBN 978-4-04-854544-0 | February 7, 2012 | ISBN 978-1-4215-4179-2 |
| 07 | March 26, 2011 | ISBN 978-4-04-854612-6 | May 1, 2012 | ISBN 978-1-4215-4180-8 |
| 08 | October 26, 2011 | ISBN 978-4-04-854690-4 | Oct 2, 2012 | ISBN 978-1-4215-4946-0 |
| 09 | April 4, 2012 | ISBN 978-4-04-120193-0 | April 2, 2013 | ISBN 978-1-4215-5083-1 |
Cover Gallery
Edit
References
Edit
↑ English translated comics volumes 1 - 9 are available on KADOKAWA eBook store
External Links
Edit